Here at Fabtimeshare we are getting excited for the summer season so we want to share with you in the next few weeks some great holiday information should you be visiting any of our Marriott vacation club destinations. This week we are looking at the beautiful island of Mallorca.
If you didn't know Mallorca is twice as big as Greater London and the largest of Spain's Balearic Islands. It has dreamy coastlines, sculpted cliffs, sapphire seas, pine-dotted bays, deserted coves ,plenty of resorts, activities and restaurants. It is also home to some of the best beaches in Europe some of which we wanted to share with you in this post.
If you are planning on visiting Mallorca in the near future then make sure you check out at least one of these beaches.
Best Beaches in Mallorca
This Spanish island has a varied coastline and more than 120 beaches and coves so with this many worthy candidates it is hard to pick out the best beaches. No matter where you are in Mallorca, the coastline will awe you but if you want some quick advice here are the top beaches that are a must-visit on your holiday there.
Cala Agulla in Cala Ratjada
The blue flag Cala Agulla is a golden sandy beach in the northeast of the island, surrounded by the Llevant Natural Park Mountains and lush pine forests. The location in a protected area near Cala Ratjada and Capdepara keeps it mostly unspoilt. You will find the sand fine, clear and shallow. Facilities include sunbeds and toilets, restaurant and bar, pay parking and lifeguards. There are no water ports but beach volleyball is popular.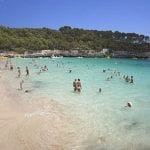 Cala Mondrago in Santanyi
Cala Mondrago is unspoilt, completely natural and a largely a sandy beach to the south of the island. There are some unusual rock formations here that draw snorkelers, and the National Park location with wetlands and dunes draws many species of birds. There is also a small resort nearby. Cala Mondrago is still easy to get to despite its seclusion. You can take a bus from Cala d'or or a car to the beach. In the summer, the beach is also accessible via tourist train from Porto Pedro.
Es Trenc in Campos
Es Trenc offers soft white sandy beaches backed by endless sand dunes, low vegetation and salt pans as far as you can see. Turquoise waters lap this beautiful and popular beach. The beach lies in a protected area, and in the winter it attracts flocks of migratory birds. Since the beach is close to Palma, it can get crowded over the weekends. But if you walk towards the ends of the beach from the car park, you will find much quieter spots to spread out your beach towels. The facilities on offer include parasols, sunbeds, a restaurant and bar. There are also some areas where you will find nude bathers though the beach is not officially nudist. The beach lies to the south of Campos, along the road towards Colonia de Sant Jordi.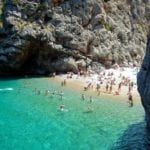 Sa Calobra and Torrent de Pareis
The pebble beach of Sa Calobra is truly a hidden paradise in the north west of Mallorca. It is reachable either by sea (recommended if you're the nervous type) or with a drive down a narrow, steep road with plenty of twists and turns. The beach sits between two high cliffs, and lies in the gorge of the Torrent de Paries (twin streams) that begins several kilometers up the mountains. The beach is by no means isolated, and there are crowds here even in winter. But it is a must-visit for the location. The seas here can get rough and make the beach inaccessible, especially after heavy rains and flash floods. So be sure to check the weather before venturing to Sa Calobra. Experienced hikers can walk the gorge's length for a good four to five hours one way. If you are driving to the beach, head out of Soller towards the Blue Gorge and further on to the Port de Sa Calobra. Parking is available at the port and the beach is a short walk from there through a tunnel.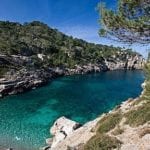 Cala Deia
On the west of the island the charming village of Deia and its intimate shingle beach has attracted celebrities for years. The village stands high on the mountainside, and to get to the beach you have to follow the river until you get to a dramatic cove surrounded by high cliffs. Some fishing huts and excellent dining facilities make it a perfect visit especially on a breezy summer day.
This is by no means a comprehensive list – there are numerous fine beaches on the island. To the west the coastline is bordered by high cliffs overlooking sapphire waters. To the east, you will find plenty of deserted coves to discover. There are gentle bays in the north with pines dotting the coast, and waters suitable for a variety of water sports. To the south you will find gorgeous white sand beaches. You can visit several times and still have a new beach experience to enjoy.
With so much to offer Mallorca makes a wonderful holiday destination that you can visit time and time again and never be disappointed. This is why owning a timeshare here is a fantastic investment for you and your family. If you are interested then please check out our Marriott Club Son Antem Resales or if you just want visit and try out this fantastic resort we also have some great Club Son Antem Rentals to offer.