Golf holidays have become increasingly popular over the years, with more and more immaculate courses appearing all over the world, offering unique holes, scenery, and experiences. But with such a wide of options to choose from, how can you possibly decide amongst the vast quantity of timeshare resorts offering world-class courses? Fortunately, we've done the work for you! Here are the top three timeshare resorts for the perfect golf holiday.
Marriott´s Playa Andaluza
Nestled on the sunny Costa del Sol, in the south of Spain Marriott´s plaza Andaluza sits between the popular tourist towns of Marbella and Estepona. The Costa del Sol is also known as the "Costa del Golf" due to the large quantity of pro golf courses here, including Valderrama. Many of the local courses close to Marriott´s popular timeshare resorts allow you to pay and play, as well as renting out clubs and golf carts, saving you the hassle of travelling with heavy equipment.
The closest course to Marriott´s Playa Andaluza is the  El Paraiso golf course, which was designed by Gary Player. Set amongst the rolling hills, in the peaceful El Paraiso valley with the backdrop of the majestic 'La Concha' mountain to the north and the sparkling Mediterranean to the south, El Paraiso has earned the stellar reputation of not only providing one of the best championship course layouts on the coast, which draws players back year in year out, but also being the friendliest international club too. New members, golf societies and visitors are always welcome!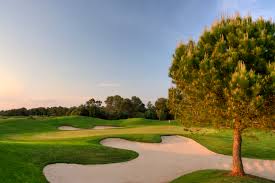 Marriott´s Son Antem
The Marriott Son Antem Golf Resort  offers golfers of all levels the chance to stay at one of Europe's top hotels and at the same time enjoy a game of golf on two of Mallorca's leading golf courses, as well as enjoy the other sporting facilities on offer at this purpose built sporting complex.
The East Course opened to the public back in 1994 and is a championship course measuring 6,325 metres. It is laid out on what used to be hunting ground, and for that reason you will come across a wide variety of animals and birds during your game. A well designed golf course, the wide and long fairways allow the high-handicap player to recover from bad tee shots. There is plenty of rough foliage on either side of the fairways and a large supply of spare balls is recommended, so you are not caught short halfway through play.

Marriott´s Canyon Villas
Marriott´s Canyon villas gives you the opportunity to stay in an elegantly appointed 2-bedroom villa while enjoying access to the amenities of the neighbouring Marriott Desert Ridge Resort & Spa, including the picturesque 18-hole championship courses designed by two of golf's greatest legends–Arnold Palmer and Nick Faldo. The Faldo Championship Course features wide fairways, large greens and 108 deep pot bunkers and is ideal for perfecting all aspects of your golf game.