Boston makes for the ideal family vacation. Not only does it have a world-class children's museum, Fabled Fenway Park and Swan Boats, it is also a stunning city with excellent cuisine and shopping opportunities for adults too. It therefore comes as no surprise that Boston is one of the preferred family destinations to visit in the USA. Here are some of the top reasons to visit Boston with kids.
Take A Ride On The Swan Boats
Wander over to the Boston Public Garden to ride the ever-graceful Swan Boats, the only boats of their kind in the world! Swanning around the lagoon is incredibly affordable, costing just $2.75 for adults, $1.75 for kids, and it has been a Boston tradition since 1877. Afterwards, stroll over to take some holiday snaps on the statues of Momma Mallard and her clan. You can continue the adventure across Charles Street to the Boston Commons to wade in the nearby Frog Pond (which doesn't actually have any frogs in it), a fun, free way for kids to cool off on a warm summers day.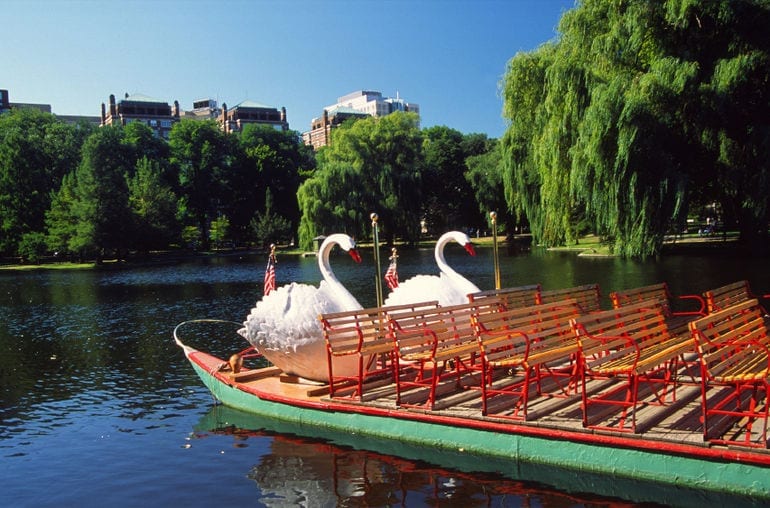 Visit Faneuil Hall Marketplace, Quincy Market
No visit to Boston would  be complete without a visit to Faneuil Hall Marketplace, which was a gift to the city in 1742. With its cobblestone streets and extensive history, it is the true representation of Boston. Faneuil hall marketplace was once home to merchants, fishermen and produce sellers and it has been used a platform for famed orators as well as being where colonists protested the Sugar Act in 1764. Today, you can stroll by a delightful mix of carts, buskers, street theatre, shopping, and restaurants. One of Boston's top attractions, Faneuil Hall is actually four places in one location — Faneuil Hall, Quincy Market, North Market and South Market, all spread out around a cobblestone promenade where jugglers, magicians and musicians entertain passers-by. From time to time, the buskers even get the kid's to join in on their acts.
Boston Children's Museum
You'll hear a lot of "Look at me!" from the little ones at this world-renowned facility on Congress Street that offers over 400 hands-on, minds-on exhibits. "Don't touch," is not a phrase you will ever hear in this bustling museum, where kids bounce from one activity to the next. They can literally dance in the Arthur theme song, rock climb, visit an art studio and touch, test, and play to their heart's content. The facility also offers many parenting tips on helping children learn through play and exploration. Arriving early? Even the outdoor Harborside Walk is designed for learning and fun. The onsite Au Bon Pain offers fruits, salads, sandwiches and more. It's reasonably priced and the café has free wifi, so you can catch up on some emails whilst the kids are at play.
Take A Duck Boat Tour
The Boston Duck Tours are seriously worth it. Not only do you get to cruise by sites like Bunker Hill and Boston Gardens, the  ConDUCKtors, who are all in character for the duration of the tour, offer great insights into the city. Kids will love quacking along and participating in the games the conductor involves them in  and the drivers usually let young passengers take the wheel of the original 1942 WWII style amphibious vehicle when it gets into the River, which by the way, gives you  wonderful views of the Boston and Cambridge skylines.
Take In The Stunning Views Of The Boston Harbour
Whilst not entirely focused on kids, they will certainly love staying at Marriott's Custom house which towers above the Boston harbour. The waterfront suites can accommodate up to four people, making it the ideal choice for travelling with smaller children. Be sure to visit the resort's 26th floor open-air observation deck for spectacular sights of the Boston waterfront and some fabulous family photo opportunities.
For more information on Marriott's Custom house resales, please contact us today!