Kauai  is without question of a doubt the most beautiful of all the Hawaiian islands. It is, after all, called the 'Garden Isle.' Whether you choose to spend your days hiking the Kalalau Trail along the Na Pali Coast or peacefully watching each sunset from Ke'e Beach, its impossible not in love with the vast amounts of beautiful scenery awaiting you on this small island.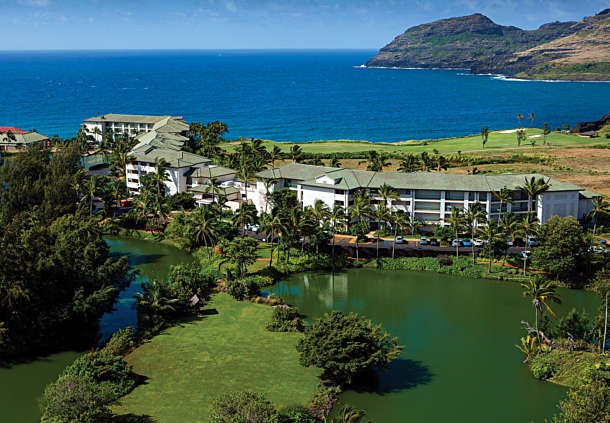 Marriott´s Kauai Lagoons
If you are searching for peace and tranquility, then this 500 acre resort featuring luxurious villas is the place to find it. Enjoy gorgeous tropical foliage and sparkling lagoons, as well as unforgettable vistas of the coastline. The stylishly appointed two and three bedroom villas feature separate living and dining areas, full kitchens and private balconies overlooking lush garden, golf or Pacific views. They are fully equipped, including multiple TV sets, DVD and CD players, and even washers and dryers.
The award-winning Kauai Lagoons Golf Club, an 18-hole Jack Nicklaus signature course, is right on your doorstep and the world-famous Kalapaki Beach is a short distance away. Marriott´s Kauai Lagoons is perfectly located to give you the option of exploring every site this tropical gem has to offer, so be sure to check out the following things to do during your stay in Kauai during your stay.
The Kalalau Trail
Spend a day (or two and camp overnight if you're an experienced hiker) hiking the Kalalau Trail along the Na Pali Coast. You can do a quick and very easy 2 hour round-trip day hike to Hanakapi'ai Beach without really breaking a sweat, or delve further into the coastline on a 4 hour round-trip hike to Hanakapiai Falls (this is a mid to difficult hike recommended for experienced hikers).
Experience Kauai By Air
Book a helicopter ride and experience Kauai by air. A truly memorable experience and by far the most visually inspiring and memorable helicopter trip you could ever imagine. Fly through Waimea Canyon, visit the wettest part of the world deep within Kauai's rain forests and finish by flying along the Na Pali Coastline – a magical sight that is the only way to put the large scale of its rugged and dwarfing mountain ranges into perspective.
Sunset Picnic
Pack up some snacks and watch the sunset from Ke'e Beach. Considered to be the most beautiful beach on the island to watch the sunset from by many, Ke'e is the last beach accessible by car and the best place to chase those last moments of light. With the sight of waves crashing upon the base of the Na Pali Coast, it makes for a beautiful photo opportunity when the golden light fills the depths of the mountains and shimmers through the crashing waves.
Hanalei Pier
The protected bay of Hanalei beach offers visitors an ideal place to unwind with a blank notebook and head full of new ideas. Head here for a day of rest, relaxation and snorkelling at Tunnels Beach or Hideaways Beach. Be sure to stop at Hanalei Valley Overlook during your road trip into Hanalei Beach – a nice scenic change from the incredible beaches you'll find here or the cascading waterfalls or mountain ranges drenched in tropical rain forests.
Visit Wailau Falls
Hike up to these stunning waterfalls and cool off in the fresh water. If you are worried about getting lost, then join a group excursion for you own peace of mind.