With summer just around the corner this is the time when the Costa del Sol starts to come alive. This can be seen when the many famous beach clubs located on the coast host their grand summer opening parties at this time of year. Marbella and the surrounding areas are fast becoming known all over the world for their beach clubs so we thought we would give you five of the best you must visit if you want to let your hair down when enjoying your holiday here. Whether you want to spend your day relaxing in the cool sea breeze, have a luxurious dinner in the evening or dance into the morning hours these beach clubs provide it all and better still they are only a quick ride away from the Marriot vacation club resorts that we deal with.
Our Top 5 Best Beach Clubs Picks

1)Nikki Beach
Nikki Beach probably the most well known brand of beach club in Europe and beyond and the Marbella club is located in Elvrira almost next to the Marriott Marbella Beach Resort and just7 km away from Marbella town center. The beach club houses a Sushi restaurant and bar, a Thai Chiringuito, restaurants, bars, designer boutiques, and a swimming pool.Nikki beach offers an amazing party scene, which is comprised of regular entertainment events such as Champagne contest, Mojito parties, dance nights, and white and red parties. It also offers a lot of live music and entertainment nights with a variety of dancers, musicians and DJs.

2) Ocean Club
Ocean club is one of the largest and most popular beaches in Europe, which offers a new concept in terms exclusivity, fashion and cuisine. It houses a number of exclusive shops, a massage parlor and a spa. With a total area of 9000 square meters, the beach club has a large swimming pool and an outdoor bar area and restaurant that can hold up about 300 to 500 guests.It also offers a variety of delicious dishes such as Thai food, Sushi, Pizzas, and Italian, Indonesian, Indian and Mediterranean cuisines.The beach club also offers a lot in terms of nightlife. If you like the combination of party life atmosphere in the evening and relaxed atmosphere during the day.Ocean Beach is located just outside Puerto Banus and is definitely one to check out if you like to party hard.
3) La Sala by the Sea
La Sala by the Sea is a tropical paradise that is located on the outskirts of Puerto Banús. The beach club is the perfect holiday getaway for sun lovers, with about 50 plush beds and several other shaded beds when you want to cool down. Positioned around a circular pool, the beach club looks out across the Mediterranean, providing a beautiful backdrop. When it comes to the food, Buddha Beach club offers some of the best dishes as well as an amazing cocktail menu. A very relaxed and cool place to hang out.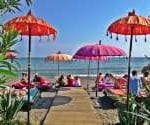 4) Sonora Beach
Sonora Beach is an amazing and refreshing place to have a great time at the beach. Compared to other beach clubs this place is small and without all the accessories. However what it lacks in wow factor it makes up for it with a chilled-out, laid-back and down-to-earth set up you don't get at the other clubs. The beach features a bohemian-style structure, embellished with lively exotic plants. It also has several comfortable seating areas and sun beds where you can spend your day relaxing.The food served at the beach club is affordable and yet deliciously unique. Here, you can expect to find a wide selection of salads, burgers, wraps and main courses. The club also offers a wide selection of drinks on their menu, from natural juices to smoothies, teas, wines and alcoholic beverages such as Tequila.
Another great thing about the beach club is the music offered. Regular live music events are held here, attracting a large number of music lovers of all sorts but get there early as it soon fills up.Senora Beach is located between San Pedro Alcantara and Estepona and is just 10 mins drive from Marriott Playa Andaluza Resort.
5) Puro Beach
Just further up the road from Senora is Puro beach is located in the luxurious Laguna Village. This is a complex that houses the beach club, boutiques, restaurants and bars. The beach club offers an amazing view of the Atlas and Gibraltar mountains of Morocco, which creates very unique and laid-back atmosphere. At this beach club, you can spend your day relaxing on the beach or at the amazing swimming pool. Great place to really unwind and enjoy your favorite cocktail.During the night, Puro Bech club transforms into an amazing night life venue with its luxurious and exclusive outdoor nightclub where you can dance till morning to the latest summer beats. When it comes to food, the beach club offers an extensive menu comprised of seafood, fresh salads and delicious Asian cuisines.

Conclusion
The above beach clubs are some of the best beachclubs in Marbella for an amazing holiday experience. All of them have something different to offer – be it unique cocktails, live music, amazing party life, or delicious cuisines so be sure to check out at least one of them during your stay.
Click here now for details on out latest resale or rental offers for either Marbella or Playa Andaluza Marriott Vacation Clubs