Top 5 Beaches In Mallorca
Mallorca is the largest of Spain's Balearic Islands. Sculpted with stunning coastlines, jagged cliffs, crystalline seas and of course loads of activities and restaurants that can be enjoyed year-round. Mallorca also boasts some of the most beautiful beaches in Europe and if you are not in the know yet, then here is a list of the top 5 beaches in Mallorca that you can enjoy this Summer.
Mallorca's coastline is somewhat varied and it also boasts over 100 beaches most of which have their own hidden coves. With so many beautiful sandy stretches on offer, it's difficult to pick the best ones. If you are travelling with your partner or family then here are 5 beaches in Mallorca that you absolutely cannot miss!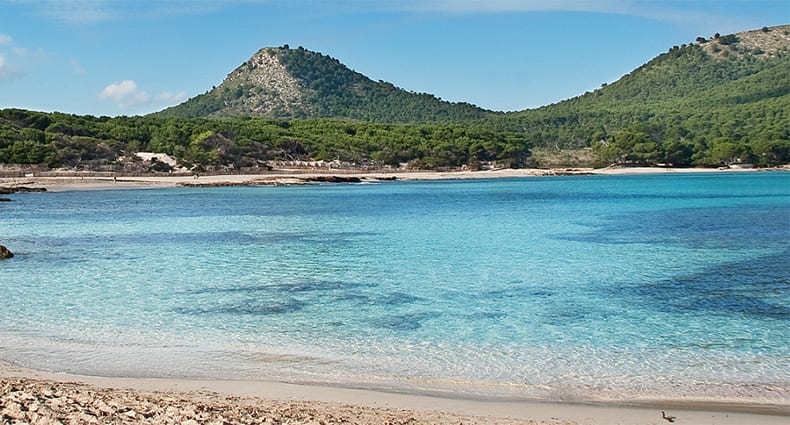 Cala Agulla 
The golden sandy beach of Cala Agulla can be found in the northeast of the island and it earned its blue flag status for being one of the cleanest beaches in Europe. The beach is surrounded by the Llevant Natural Park Mountains and lush pine forests and due to its protected location, it is still largely unspoilt. The sand is soft and fine and the waters crystal clear and shallow making it the perfect place to spend the day with small children. You will find all of the essential amenities like sun loungers for rent, restaurants and public bathrooms at Cala Agulla- one of the most breathtaking beaches in Mallorca.
Cala Mondrago 
This is a totally natural, utterly unspoilt sandy beach that can be found in the South of Mallorca. The unusual rock formations that have settled in the waters here draw in keen snorkelers even during the winter months. Surprisingly, Cala Mondrago is easy to get to despite its secluded location, far from the maddening crowds. Buses run regularly from Cala d'or or you can drive here by car if you have rented one. During the summer season, the beach is also accessible via tourist train from Porto Pedro.
Es Trenc 
Soft white sandy beaches against a backdrop of endless sand dunes, low vegetation and salt pans as far as you can see is what comes to mind when someone mentions Es Trenc. The turquoise waters are not to be missed, but do bear in mind that as Es Trenc is close to Palma, it can get crowded with both tourists and locals. Especially at the weekends!

Sa Calobra and Torrent de Pareis
The hidden paradise of Sa Calobra is accessible either by boat or by driving down a narrow, winding mountain road. The former is recommended if you are slightly nervous of heights. The beach lies between two high cliffs,in the gorge of the Torrent de Paries that begins right up the mountains. Whilst it can get crowded with visitors even in Winter, this location is an absolute must-visit during your holiday to Mallorca.  If you are a keen and experienced hiker then you can walk all the way here down the length of the river gorge.
Cala Deia has drawn in celebrities for several years. The village itself is found high on the mountainside, and to get to the beach you have to follow the river until you get to a dramatic cove surrounded by high cliffs. Some fishing huts and excellent dining facilities make it a perfect visit, especially on a balmy summer day.
Mallorca is an island that truly has it all- beaches, plenty of things to do, fine dining and some world-class diamond Timeshare Resales golf courses. One of which can be found at Marriott's Son Antem. Owning a timeshare in Mallorca makes perfect sense if you are looking to explore this beautiful island year in, year out.