The Christmas holiday season in the city of love would seem far less joyful and inspired without the Paris Christmas markets that have been a tradition for many years. Every year, during the month of December, these wonderful markets pop up around the city and many people visit the romantic city specifically to attend the Paris Christmas markets. The markets, with their iconic clusters of wood chalets offering custom holiday treats like mulled wine, gingerbread, sausages and other specialties from different parts of France, are an essential part of celebrating Christmas in Paris.
The Paris Christmas markets also make for an ideal and fun filled outing for kids of all ages and if you are staying at Marriott's Village Díle de France, you will be in the perfect location to visit all of the most popular Christmas markets in Paris.
Christmas Market on Champs-Elysées
This is by far the biggest and perhaps most well known Christmas market in the city of Paris- this year it will be longer than a few days longer than usual, due to popular demand and rave reviews! The market comprises of around 200 wooden booths selling all types of handicrafts and gourmet delicacies from difference areas of France and it stretches all the way from the Champs-Elysées roundabout (Metro stop: Champs Elysées-Clémenceau) to the Place de la Concorde (Metro stop:  Concorde). This year it is open from November 11th to January 8th, 2017.
Christmas Market at La Défense
At this market, there will be more than 300 stalls selling everything from artisan and regional products to handmade decorative items and toys, this is one of the most popular festive holiday markets in Paris – with the stunning view of the Grande Arche de la Defense towering overhead.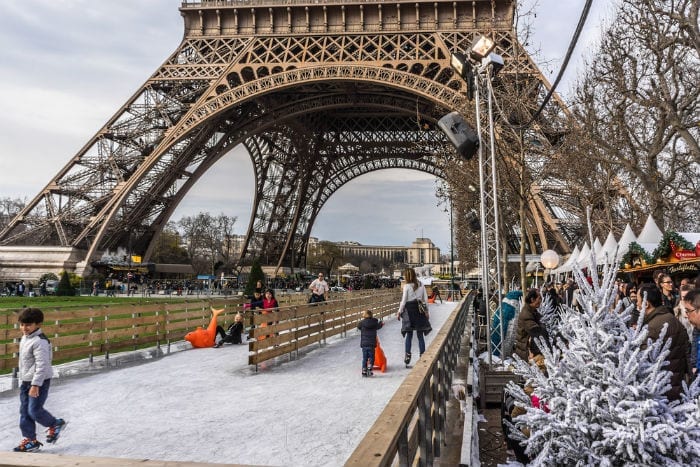 Christmas Market & Ice Rink at Champ de Mars/Near Eiffel Tower
This Paris Christmas market is definitely one to visit if you are travelling with kids. It features approximately 100 stalls selling all kinds of gifts and goods that are ideal for the Christmas holiday season. There is also an ice-skating rink and "snow villages" making it ideal for the little ones who tend to get bored easily, as there is just so much to do here!
Why Visit Paris During Xmas?
It will come as no surprise that Paris' beauty is supercharged over the holiday season, thanks to the dazzling Christmas lights and aromas of gingerbread and other sweet treats wafting out from the Patisserie's all around the city. If you have children, then Disneyland Paris puts on all kinds of special shows and events to make them have the best Christmas experience ever! Plus, we at Fab Timeshare also have a special Christmas gift for you! If you want to enjoy a Christmas holiday and New Year in Paris, we are offering a 2 bedroom Townhouse in Marriott's Village Dile de France 25th December to 1st January (7 nights) for just €1300. If you would like more information about this special offer, or other promotions we are running, then please contact us today and we would be delighted to help you!