Booking that longed-for holiday online, and bagging a bargain flight is only the half of it. It's a little late to wonder about the quality of your chosen accommodation when you're buckled up and browsing the airline brochure. Have a look at the advantages of a timeshare property instead. Step across the threshold of one of the superbly located Marriott's Playa Andaluza properties, and live out that holiday dream.

A guaranteed success
Avoid the pitfalls of 'blind' booking. Brochure and online apartments and villas might not be all they seem. That 'short stroll' to the beach might be an hour's hike uphill – not much fun for young children or the elderly. Even less so in the relentless heat of the midday sun. A couple of similar holiday dramas may leave you in a crisis. Leave the guesswork and the midday sun to the Mad Dogs and Englishmen drama queens, and hedge your savings on a better bet instead.
Playa Andaluza
Looking for a property close to the beach in Andalusia? The clue is in the name! Located close to the celebrity playground of Puerto Banús, and equidistant from the charming and quieter Estepona. You'll know as soon as you view, that an apartment at Marriott's Playa Andaluza is a home from home. The whole family can enjoy the advantages of a timeshare, endless entertainment, and all in a stunning location.
Location matters
The sparkling Mediterranean and long expanse of beach on the front step is a big draw. Teamed with long sunny days and warm evenings, you'd be easily forgiven for not wanting more. But there is so much more. Visit nearby villages such as Benahavis for a different view, pull up a chair to the table there, it's well known for some of the best restaurants around. Golf is king in this area of Spain, better known as the Costa del Golf, so practice that swing. Visit Jerez de la Frontera for the day, and taste the famous sherry. Not just for Granny, but a fashionable tipple. Nature, long walks and sightseeing are all on the doorstep. A well appointed, spacious apartment is yours for relaxing in. Make yourself truly at home, with a timeshare in the Marriott's Playa Andaluza resort.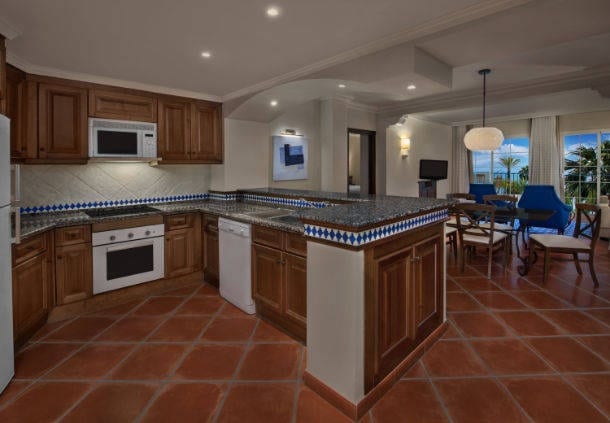 If you are staying at Marriott's Playa Andaluza feel free to visit one of our Fab Timeshare Resale Offices directly opposite the resort in the Diana Centro Comercial. We are the only company in which all of our staff have worked directly for the Marriott Vacation Club at Marriott's Playa Andaluza. We are also the only company with a licensed resale office just outside the resort, where you can come in for help and advice face to face whilst on holiday. After your timeshare purchase we are there on site to give you assistance using your ownership and how to get the best out it.