The first day of Autumn has arrived and whilst some parts of the world are still able to bask in 25 degree heat, others are already spiralling into the chilly temperatures of the Winter months. Autumn is the perfect time to travel—there are beautiful sights to see, plenty of festivals, and lots to do both indoor and outdoors and best of all, accommodation rates tend to be lower outside of the peak season months of July and August. Here are 5 of our favourite Autumn travel destinations for you to consider this 2016 season. Where will you choose?
Marbella, Spain
Many people choose to visit Marbella during July and August. But, it is often better to avoid these months and go during the Spring, Autumn and Winter seasons. Out of season, Marbella is a fantastically vibrant place during both day and night. The temperatures remain balmy and the sky is always clear and the beaches are no longer crowded with families desperate to make the most of their week in the sun. Whilst many of the restaurants and beach clubs close out of season, one place that remains pleasantly vibrant is Marriott's Marbella Beach Resort and the surrounding area.
Mallorca, Spain
Mallorca is a year round destination, with hot summers and winters at temperatures that are still comfortable enough to be outside. Summer is considered to last until mid-October, when even the Med is warm enough to still enjoy a swim, with a temperature of more than 20°C. The climate makes Mallorca an ideal destination for autumn golfing breaks and more than 20 courses on the island attract all level of players for tournaments and training academy´s. One of the most prestigious courses on the whole island can be found right on the doorstep at Marriott's Son Antem.
Orlando, Florida
The beginning of the new school year is without question the best time to visit Orlando, so next on our list of Autumn travel destinations is the capital of Florida. Theme park queues and prices are substantially lower than the summer months, allowing you to get the most out of your Disney theme park experience. Not to mention the infamous Epcot Food and Wine Festival that runs September 14th to November 14th every year. If you are looking for excellently priced accommodation options in Orlando, then check out Marriott's Lakeshore Reserve.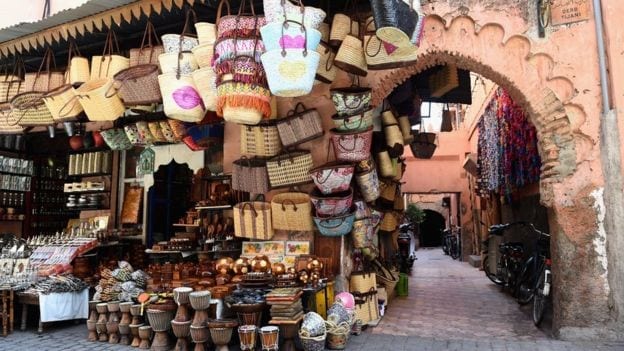 Morocco
Despite being in North Africa, Morocco is a short hop from the UK by plane (around four hours). Once you are there, head to Casablanca for laid back coastal charm. Or skip straight on to moody Marrakesh, where the colours are rich and the smells are divine. One of our all time favourite Autumn travel destinations!
Paris, France
There are few places in the world as romantic as the capital of France. The inspiration for many a love song, book and film, it's no surprise that Paris moved Humphrey Bogart to tell Ingrid Bergman: "We'll always have Paris." Once you get to the city of love, get your walking shoes on and start pounding the pavements because Paris is a city for pedestrians. With so much to see and do, one of the most important things to do is take plenty of breaks to indulge yourself in the delicious Parisian cuisine.